Custom Logo Mugs
We create hand-thrown custom logo mugs for your business or special event. For information regarding the creation of your own custom mugs, contact Kim Vasil, kim@vasilscene.com.
East Rome High School Custom Mugs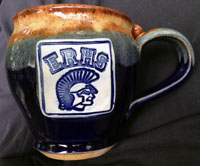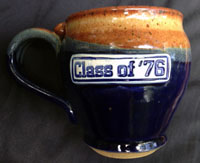 Mugs are available with East Rome High School logo on one side only or with Class of '76 on one side and ERHS on the other.
Shipping is $15.00 per mug.
If you are local to the Rome, Georgia area, you can save the shipping charge by meeting us, feel free to email your order to us directly at kim@vasilscene.com.